 So the transition to a new format is official. Welcome to Jeff and the Big Wide World! In case you don't have children this title is a reference to possibly the greatest kids' show of all time, "Peep and the Big Wide World." It is a show about a chick, a bird, and a blue duck. Quack, the blue duck, is far and away my favorite part of this masterpiece, but all aspects of this show are amazing. There's a young beaver who's not too bright, a dog that perfectly portrays the lazy dog, and a multitude of other creatures that feature throughout the episodes.
Day 1
Day 1 of our big East Coast trip started with frustration as most big trips do. Everything was good until we hit the Canadian border. The kids had a great last half-day of school. We ate a quick lunch at home and got loaded up. We pulled out of our driveway at 1:30pm with what should have been a 4-hour drive ahead of us. Less than 20 minutes up the road we hit heavy rain squalls that slowed the already congested highway to a crawl. US 23 north in Michigan on the Friday of Memorial Day weekend is a parking lot normally, let alone when you throw in random downpours and thunder and lightning. Even with the rain and slow traffic we made it to the Blue Water Bridge in Port Huron without too much of a problem, maybe a bit slower than we'd hoped, but nothing to be too frustrated about. Then we hit the toll traffic and slowly inched forward for the better part of an hour. Again, annoying, but nothing serious. We paid our toll and drove across the fog draped bridge.
Then we arrived at the border crossing. Before the trip, I made sure to check the restrictions regarding COVID-19. We are all vaccinated and boosted so that was not an issue. I checked the requirements for bringing dogs into Canada; rabies vaccine certificates were in hand. I check what food we could bring, and I had all of our vaccine cards in our passports. I had our itinerary printed out… I was ready…or so I thought.
After waiting in line for another 20 minutes we pulled up to the booth. The officer asked for our license plate number… ummmm please hold. We pulled out our registration and found it. He asked for our passports which I handed to him, and he asked the normal questions; where are you going? How long will you be in Canada, etc? Then he asked, "Did you complete the Arrive Can application?" What now? Never heard of it.
Apparently, in all my research I missed the fact that in order to get into Canada you have to download an app and register all of your travelers and upload pictures of their vaccine cards. So this grumpy border agent looks at us and says "Well, you're not getting to Canada today until you complete the Arrive Can application." We of course couldn't fill it out sitting in line so he directed us to the "Return to US" lane and back over the foggy bridge we headed. The very nice Canadian toll operator waived our fee for going right back over the bridge we had literally just crossed, which was the one pleasant thing about the whole experience, and back to the US we came.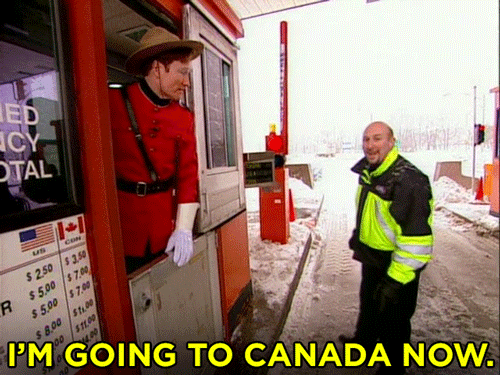 As we waited, again, to now get to the US border crossing, my wife frantically downloaded the Arrive Can app and began filling out our applications. We finally got to the border agent for the US and he gladly welcomed us back home after our long grueling international travel. We quickly took the first exit off of the highway and found a Mcdonalds so the children, and dogs could use the restroom. We grabbed some snacks, Allison finished our applications and back in line we went…again.
We paid the toll for the bridge a second time and up into the fog we went. Another thirty minutes in line at the border crossing and the moment of truth arrived. To say there was a let down is not sufficient. I have never had an easier border crossing process. The agent asked his questions, scanned our passports, and said enjoy Canada! My wife and I looked at each other in disbelief but proceeded quickly through the gate and down the road. What should have taked maybe thirty minutes had in fact taken two hours, and now we were on a race against time to make it to camp before dark. Sadly, a race we would not win.