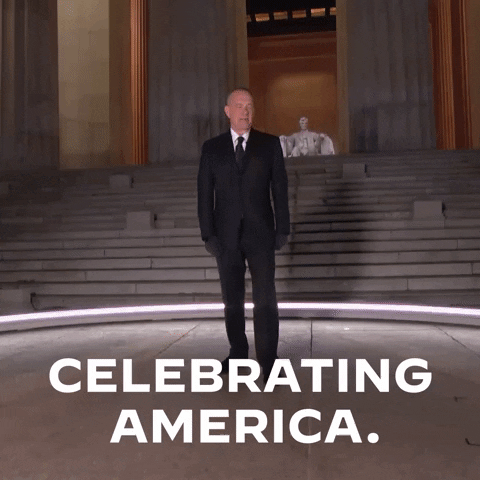 We're home!!! Well, sort of. On day 6 we set out to return home to the good ol' USA. We packed up camp, getting pretty efficient at it now, and hit the road headed toward New York. The drive was quiet and easy as we approached the border. After the debacle that was getting into Canada, I was a bit nervous about getting back into the states. There was no hour wait this time as the border crossing in Champlain, New York is not nearly as busy as the one in Michigan. In fact, they only had two lanes open for cars and we were second in line at either of them when we arrived.
The US Border agent was not nearly as grumpy as the Canadian one a few days before. He asked for our paperwork and asked the usual questions about where we've been and where we were going… and that was it. "Have a good trip," and we were on our way, back on US soil. There was no complicated app, no proof of vaccination, no proof of rabies vaccines for the dogs. It was easy and fast and now that we are back in the states my resting heart rate is sure to be much lower, along with the gas prices. (seriously, Americans are complaining about gas prices, maybe for good reason, but t's nothing like Canada or Europe for that matter so everyone relax and maybe bike to work one day)
About twenty minutes later we pulled into Cumberland Bay State Park in Plattsburgh, New York. Check-in was smooth, they asked for rabies vaccine proof for the dogs, which was unexpected, but we had them and were prepared for that situation so no worries. This site was the most rustic that we will stay at all trip. It was electric only and a back-in site as well. So we stopped at the dump station and filled up our fresh water tank, then found the site and backed right in. I say it's the most rustic due to the lack of amenities at the site, but this site and the campground were amazing! The sites were really big, with lots of mature pine trees. The electric sites were all located in one loop that was right on Lake Champlain. The views, especially on Wednesday and Thursday when there was no one else around, were fantastic. This campground also had brand new showers and bathrooms, including a laundry area. It had brand new playground equipment and a beach shower for your feet or body if you decided to swim. It was great. We definitely recommend staying there if you're ever in the Plattsburgh area.
We unpacked and headed to the store. Walmart was only 15 minutes away so we stocked up on food for the next few days and also got the kids some toys/things to do since we knew day 3 at this site was a work day for my wife. We stopped at Texas Roadhouse for dinner, our first really big dine-out experience of the trip, and then back to camp for bed.
Day 7 was cloudy and cool, but no rain. This was Ausable Chasm day so we hit the road around 10:00 after we had breakfast. Ausable Chasm is about 30 minutes from our campground and when we arrived we legit thought it was closed because the parking lots were empty. Nope, it was open, there just wasn't any crowd because it was a Thursday and schools had not ended yet. In fact, as we were checking in there was a field trip that arrived that the staff encouraged us to go ahead of, which we gladly did.
We paid for our hike and float passes and started up the trail. The trail leads you under an overpass and then up and across that overpass that leads over the chasm. I don't like heights so walking across this bridge was a bit unsettling. My kids of course wanted to hang on the railings and look straight down so dad would have a heart attack. Surprisingly this also startled my wife, who in her day was quite the adventurer herself, and we quickly made rules about staying away from edges and cliffs and whatnot.
From the bridge, the trails starts to wind down the side of the chasm. There are railings and nothing ever feels too dangerous, but our youngest was quite content to stay with dad as we walked along the edges. The hike down the chasm to the rafts takes about 30 minutes or so depending on how much you stop to enjoy the views. It was really incredible and worth the nerves that come for those who also don't like heights. Once at the raft station, you cross the chasm on a footbridge and staff members get you fitted in life jackets. We loaded into the raft and off we went down the Ausable River.
There are two sets of rapids that your raft down. The water level was down when we were there so they were barely a Class 1. Our guide did say that at times of high water they become Class 2-3, so if it's been raining be prepared. For our little ones up front, the small rapids were enough. They had fun and got splashed but were never scared. The rest of the float is nice and slow as you take in the chasm walls all around you. Our guide Brooke did an excellent job talking about the chasm and how it formed and answered all of our kid's weird questions. At the end of the float you wait for a bus to take you back to the welcome center where, if you're like us, you can spend an insane amount of money on souvenirs.
We packed a picnic lunch so we walked over near our car and found a nice place on a grassy hill to have lunch. We decided the afternoon would be well suited for a ferry trip to Burlington, Vermont, so we loaded up the car and headed back to camp. We let the dogs out and walked them a bit before loading them back into the camper. We piled back into the car and drove down the road to the ferry station. $32 dollars later and we were waiting in line to board the ferry and cross over to Vermont.
The ferry ride was maybe twenty minutes long and very pretty. The weather had started to clear so we could take in the lake and the surrounding mountains. None of us had ever been on a car ferry before so it was a new experience for all. The ferry was not full so we were able to get out of the car and walk around a bit. The kids really enjoyed the semi-truck parked right next to us as well. As we neared the dock we got back in the car and after the ferry lowered the ramp we drove off and into yet another new state.
Burlington is very cool. It is a biggish city, but they have a fun waterfront and downtown area. The highlight of course is church street which is a walking-only street with cobblestones and neat little shops on both sides. There's a Ben and Jerry's ice cream shop that we of course had to stop at and a fun little bookstore call the Crow Bookstore. Our family loves a little non-corporate bookshop and this one fits the bill. We walked up and down the street and then stopped at a nice little fountain before making the trip back across the lake to our little home on the road. Meatball subs for dinner and a bonfire with smores concluded a very fun and very long day.